Interior window washing by hand & squeegee window cleaning
Exterior window cleaning by hand wash & squeegee window cleaning
Window Sill, Frame & Screen Cleaning
Skylight  Window Washing
Awning Cleaning
Mineral Stain Removal by professional residential window cleaners
New Construction Clean Up & Window Cleaning
Window Screen Repairs
Move in and Move out Specials
Our interior and exterior window washing is guaranteed; GHB Window Cleaning Service is "Clearly the Right Choice!"
Home Window Cleaning FAQS:
Why should I hire a Professional Window Cleaner?
Regular professional cleaning helps protect the windows from the elements, keeps the costs of cleaning the windows down, and it will make your home or business look new all year round.
How often should I clean my windows?
We recommend cleaning your windows 2-3 times per year. Some of our clients have us clean their glass once a month as well as others who want it only once a year.
What causes Mineral Stains on my windows?
Overspray water, pollution, building run off and improper water drainage systems can cause streaks, haze, rainbow glow effects and cloudiness.
Is there a  non-evasive way to remove mineral stains from my glass?
One way to remove mineral stains from glass is by using Cerium Oxide.  If this method does not get you your desired results, a more aggressive approach may be necessary.
How do I keep my windows clean?
Protect your windows from hard-water stains by placing sprinkler guards to block any over spray from hitting your windows.
Keep bushes and trees trimmed away from your windows to prevent mildew deposits and sap from forming on them.
Keeping your windows clean can help you avoid major expenses in the future!
*Hand wash for up to 2 stories. Windows higher than 30 ft. may be washed by alternate method.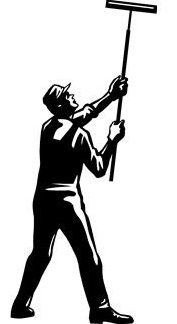 Clearly the Right Choice! Suddenly the idea of Clean Windows, Clean Gutters & Clean Roofs all year round became a whole lot clearer!  GHB Window Cleaning knows that first impressions are lasting and when your building has clean windows, people notice.
With over 25 years of experience, you can rely on our fast, professional on time service!

Visit all GHB Companies & Services...